Celebaby: $15,000 Birthday Bash and Denise Drops Pounds
Gwen Steffani and hubby, Gavin Rosdale, spent a reported $15,000 on a birthday party for Kingston and you'd never believe Denise Van Outen had only just had a baby!
$15k Birthday Bash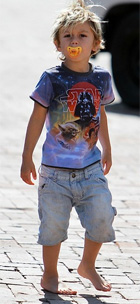 My two teenagers are born on the same day, a year apart which has caused various birthday party solutions to be looked at.  The thought of twice the number of screaming toddlers hurling jelly and ice-cream around was NOT appealing, that and twice the cost of course.
The kids have even asked if one of them could 'move' their birthdays and maybe have an official one like the Queen hahaha!!  Erm...no, but nice try!
So in the end we settled for: choose a friend and we'll all go out somewhere and DO something like a trip to London, something to eat and a movie and so it's been ever since.
4-year-old Kingston, however, had over 100 people at his birthday party recently in Los Angeles and cost the princely sum of $15,000.  They had the obligatory bouncy castle (love those), a face painter, a balloon artist, super hero characters wandering around the place and three birds (...yeah, I didn't get the birds either).
Guests included the Beckhams and Kate Beckinsale....I can't help but wonder who these celebrity kiddy birthday parties are really for - the kids or the parents?
Denise Drops Pounds

No, not our Great British pounds but baby-weight pounds!  Now we know she always looks fabulous but you'd never ever guess that she'd only been preggars two weeks before these photos were taken en route to David Walliams' wedding.
A little while back she was quoted as saying she wasn't going to be in any hurry to get back to her pre-pregnant gloriousness but she's sure doing a great job of it and super-fast too!
Apparently, the secret lies in having meals delivered that have been carefully crafted, have controlled portions and been specifically designed for nursing mothers.  Customers can sign up for a 10, 30 or 90-day plan and get this, it costs £26.95 a day for two meals or £36.95 a day for three meals and two healthy snacks!  Maybe I'm being naiive here, but is that impossible to do yourself for considerably less money?  I'm just asking...