Celebaby: Willow Smith Whips Her Hair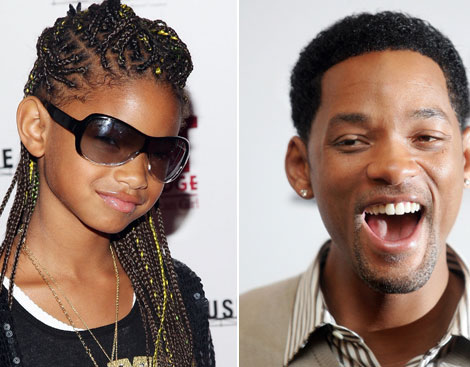 The other day I heard a song on the radio - 'Whip your hair' by Willow.
WHO?!
I had no idea but I actually thought it was a new song from Rhianna, and I have to say I rather like it; it's catchy, edgy and has a load of 'tude!
A few days later I was listening to Scott Mills on Radio One, talking about the battle for the number one slot being between the Black Eyed Peas and this 'Willow'.
He went on to say that everyone should support Willow and download her song, so as not to smash the dreams of a 10-year-old girl. WHAT?
I'm more curious than most cats and I don't like not knowing things. So after a quick bit of not very high-brow journalistic investigation, I discovered that 'Willow' is none other than Willow Smith, seriously showbiz daughter of Will Smith.
Well, that explained everything!
For a 10-year-old, her resume is already rather impressive, appearing alongside her dad in the movie I Am Legend, giving an award-winning performance in the film An American Girl and providing one of the voices for a character in Madagascar 2.
All of that said, Willow does say it's a bit rubbish that other kids are better at maths than her, because she misses a lot of school and tutor classes due to being on tour all the time.
"I never really get to go to school because I am always on tour or with my father. There is a tutor most of the time, but usually I am working so I never get to do the lessons. The worst thing about maths is all the kids are ahead of me because they go to school."
But before you start feeling too sad for her, talking on the Ellen de Generes show recently, Willow says this is what she's wanted to do her whole life - bless, all 10 years of it.
"It's what I've wanted to do my whole life. I get my flow from Daddy, my singing ability from Mommy, the camera stuff from both. That's just what happens when you hang out with the Smiths."
Whip My Hair has been released under Jay-Z's (Mr Beyonce) record label Roc Nation, he said he had no idea of the identity of the singer when he heard the song for the first time (he was also responsible for signing up Rhianna, by the way).
"I heard the record first before I knew that it was recorded by a nine-year-old and I was like, man, that record's a smash!"
If she'd beaten the Black Eyed Peas to the number one slot on Sunday (she entered the charts at number two) it would have made Willow the youngest star to top the UK charts since Jimmy Osmond, in 1972, with Long Haired Lover from Liverpool!
I know which song I prefer!
Here's the official video if you want to have a quick look-see and see what all the fuss is about: Willow - Whip My Hair