Celebaby: Where Her Parents Go, Willow Goes Too.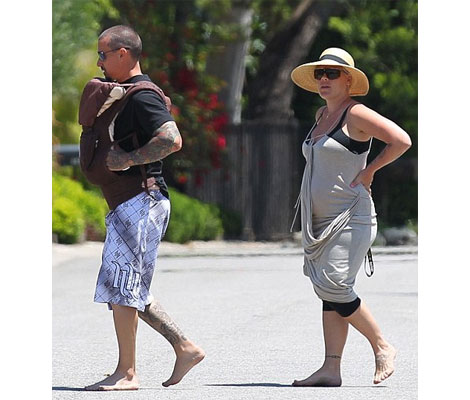 Young Willow Sage is only two weeks old but her parents, Pink and her husband, Carey Hart, have been out and about with her, rather than keeping her tucked away from the world.
She was pictured with both of them strolling on the beach a few days ago - obviously SHE wasn't strolling, that really WOULD have made headlines!
"Pink's baby walks at just two weeks of age!"
Can you imagine...
And they've  also taken her to a farmers' market  - apparently this is a quintessential Los Angeles place to visit; really?! Who'd have known! - and out for a stroll on Saturday.
I really like Pink; I'm not a fan of all of her music, she can be a bit shouty and angry for me on some of them but she's down to earth and tells it the way she sees it.
I love how she's happy just to go out in whatever she feels comfortable in and in the latest shots taken on Saturday, both her and Carey were walking barefoot - I loved doing that as a kid and feeling the ground hot under my feet, no chance of doing that in this country at the moment!
Sunday was Father's Day and Pink tweeted a message to her new 'baby daddy' (that seems to be the celeb' phrase of the moment)
"Happy Father's Day to all the papas in the world, especially my brand new baby daddy."
And he replied with his own Tweet,
"My first Father's Day was perfect. Thank you Pink and Willow"
Pink tweets quite a lot so if you want to keep up with what's going on in her new world, follow her.  She wrote this recently, it made me smile as I remember being slapped in the face with how fast life changes as soon as you have your first baby.
"My life was once whisky, tears, and cigarettes … now it's snot, tears, and the colour of poop. #bliss"
She added "I do miss the whisky though ;-)" to the end....don't we all (unless you don't like whisky of course!)