Celebaby: The Trending Teething Giraffe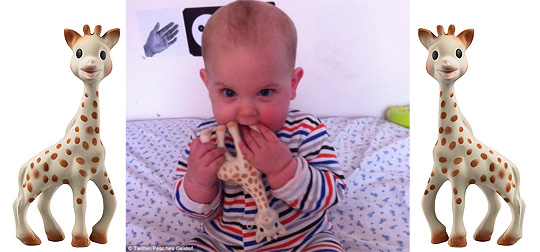 I'm reading a book about trending and what makes some things go viral and other things not - it's called The Tipping Point and it's by Malcolm Gladwell, in case that sort of thing interests you too, and it ties in rather nicely with Sophie the Giraffe, who's trending among A-list celebs who have teething children.
Peaches Geldof, of course, has tweeted a picture of Astala chomping on his own Sophie and other celeb parents, who've bought their kids Sophies, include: Kate Hudson, Maggie Gyllenhaal Nicole Richie, Isla Fisher and Amy Adams.
Sophie, the teething giraffe, has been the teething toy of choice in France for over 50 years - now if that's not testimony to her effectiveness, then I don't know what is!
The question is, from a tipping point point of view: WHAT is it that's made Sophie so successful, AND recently become the celebrity teething toy of choice?!
She just looks like a bendy, rubbery giraffe to me.  Don't get me wrong, I adore giraffes after having been very up close to one but, there are thousands of other teething toys out there that look infinitely more 'trendy and sophisticated' than Sophie.  Perhaps that's the point, maybe it's because she's not those things.
Peaches is expecting her second baby this year; we already know it's a boy and that he's going to be called Phaedra - yes, that's right, Phaedra.
For those of you who know your Greek mythology, you'll be as confused as the rest of us who do - you see, Phaedra (pronounced Fedra) is a girls name; Phaedra was the daughter of Minos and Pasiphae and her name means 'bright'.
Bob Geldof, Peaches' dad, wasn't shy about coming forward and admitting he had trouble wrapping his brain around his first grandson's name - Astala.  I'd so love to know what he makes of Phaedra!
By the way, if you want a Sophie the Giraffe of your own, you can: she has her own official website - sophielagirafe.co.uk - or you can pick her up at Mothercare * for £12.95 and Amazon * for £11.75.