Celebaby: Pink, Gisele And Kingston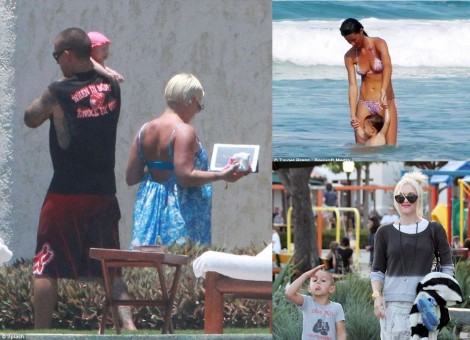 It's all quiet on the Celebaby front for the minute.
We're still watching and waiting for Mel B to pop, which should be any day now; mind you, we were saying that about Pink for what felt like MONTHS!
Pink
In the meantime Pink, her hubby and baby Willow have gone away on their first family holiday together.
Snapped from a distance and judging by the resulting blurry photographs, everyone looks to be having a rather lovely time in Mexico.
Willow Sage is a grand two months old now and Pink is clearly in no hurry to race back into pre-pregnancy shape and before anyone starts, that's not intended to be a bitchy comment!
It's rather nice to see her just enjoying her new daughter rather than camping out indoors until it looks like she wasn't pregars in the first place - now THAT'S a sideways comment at a well-known recent new mother - and cute little Willow was dressed in a little pink sun hat and, I'm sure, plenty of sunscreen.
Gisele
Gisele Bunchen, on the other hand, has definitely got back her pre-pregnancy figure but when you earn your living from your body - I know that sounds wrong, but you know what I mean - it's hardly surprising.
She was spotted playing in the sea with her, now, 20-month-old son Benjamin in Costa Rica.
I'd rather like to look like her in my bikini, but with her at 5ft 11 and me at 5ft 6 I don't think that's going to happen - I'll just have to settle for being a short version.
Kingston Rossdale
Kingstone Rossdale is Gwen Stefani's eldest son.
He either knows what he wants when it comes to his hairstyles OR he just can't make up his mind, that boy has had more hairstyles in his five-year lifetime than I've had hot dinners!
Earlier this year he had a mowhawk - which, I have to say, I thought looked pretty cool - THEN it was dyed BRIGHT electric blue (which didn't look so cool), after that it went back to bleached blonde and now...all his hair's been shaved off.
Now I must confess to having a very strong liking for this hairstyle on both boys and men, so I think he looks GREAT (my husband has the very same hairstyle and HE looks great too!).
One can only wonder what hairstyle statement young Kingston will be making next.