Celebaby: Noah Shannon Green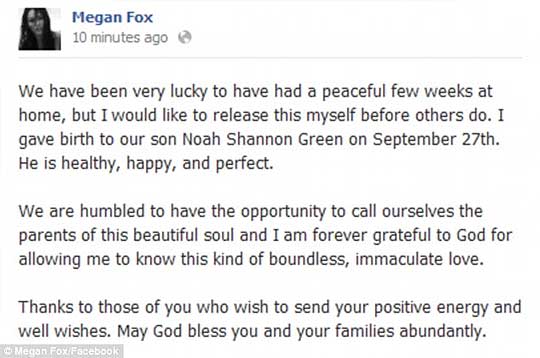 Noah Shannon Green - that's the name of Megan Fox's baby boy.  Megan revealed on her Facebook page, yesterday, that she gave birth to him on 27 September and has been enjoying quiet time with him, her husband and stepson for the last few weeks.
Her announcement on Facebook reads...
We have been very lucky to have had a peaceful few weeks at home, but I would like to release this myself before others do. 'I gave birth to our son Noah Shannon Green on September 27th. He is healthy, happy, and perfect.

We are humbled to have the opportunity to call ourselves the parents of this beautiful soul and I am forever grateful to God for allowing me to know this kind of boundless, immaculate love.

Thanks to those of you who wish to send your positive energy and well wishes. May God bless you and your families abundantly.
Megan is usually pretty tight-lipped when it comes to speaking about her private life, but she's been abnormally gushy and revealing of late.  Earlier in the year she gave an interview to Cosmo' and spoke about her role as stepmother to Brian's 10-year-old son, she also revealed she'd like at least two or three children of her own.
Well, that's another little celebaby safely delivered into the world, I wonder who's going to be next?  There can't be that many more to go, with only just under 11 weeks left of 2012 - I'm not entirely sure where this year's gone, all I know is it's vanished faster than 2011 did!