Celebaby: Mariah Carey's Baby Shower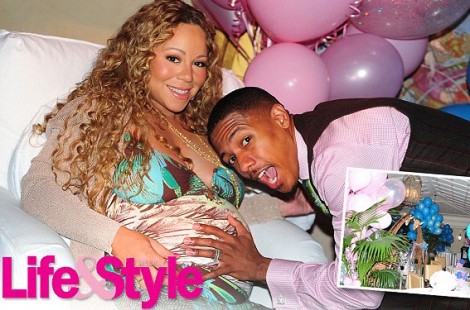 Baby showers are huge in the States and Mariah Carey's baby shower was on a scale grand enough to eclipse ALL others that have gone before it - well it wasn't going to be anything else was it!
It was held at the Montage Beverly Hills Hotel, last Sunday, which was decorated in pink and blue balloons as she's having a boy and a girl.
Mariah wore a Roberto Cavalli dress and guests included Piers Morgan (who seems to have become the lovey of the celebrity world, all past journalistic indiscretions seem to have been forgotten or forgiven!) and Randy Jackson of American Idols fame.
Guests enjoyed treated to gourmet pizzas, various appetizers along with banana, chocolate and red velvet cupcakes which, quite frankly sound YUM! I rather like the idea of going to a posh Beverly Hills Hotel to eat pizza and cupcakes rather than caviar and some lavish desert that's unpronouncable.
But it didn't end there; the napkins, servers' aprons and anything else that could be decorated were personalised with the couples' names and pictures of baby carriages.
I'm not necessarily a fan of Mariah Carey but I can't help but smile when I read about all the baby stuff that's going on and, for once, am rather excited about this forthcoming celebrity birth and the HUGE amount of fuss and media furore that will follow it.
Mariah and Nick, her hubby, received lots of pressies from their celebrity friends but it was the one which came from fans that Mariah loved the most.
"Nick and I were so grateful to everyone who came with us to celebrate, there was a lot of love in the room, and to top it off, fans from more than 50 countries sent well-wishes in a book they made for our twins titled 'Always Be My Babies'.
It was a night I will never forget."
I'm sure that when the babies arrive there'll be LOTS of sleepless night for Mariah to remember too.
The twins are due at the end of April, so there's not long to go now - watch this space!
*picture from Life & Style Magazine