Celebaby: Claudia Schiffer's Bump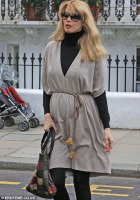 Ok, now you might need a magnifying glass for this post.
There really is a baby bump there somewhere!
Behold, the modern miracle of motherhood that is Claudia Schiffer. The ubermodel is seven months pregnant and expecting her third child in May. So we've absolutely no idea how she manages to look so svelte and streamlined on the school run but she does, and thus, we are in awe.
The Daily Mail reports that Claudia is all about surrounding herself with positivity when pregnant. She said; 'Definitely in pregnancy the number one important factor is happiness, surround yourself with positiveness.' But she also added that pregnancy isn't a licence to eat for two, saying; 'You do need to work out and you do need to watch what you eat.'