Celebaby: The Aiofe Bunny And Baby Joy For Bubba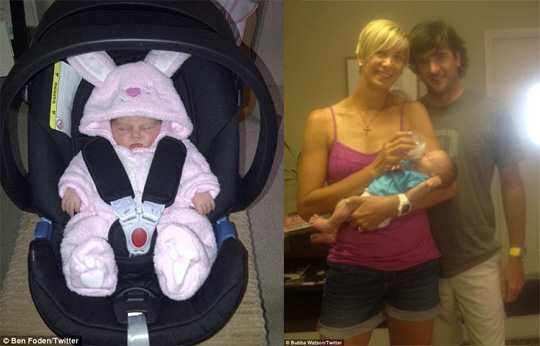 It's a sporty Celebaby today with baby news from Ben Foden - Northampton Saints rugby hero - and Bubba Watson who won the biggest tournament in Golf, the Masters, on Sunday.
Ben Foden
I'm a sucker for new baby photos, especially when they're dressed up in cute little costumes.
Ben Foden tweeted a picture of his new daughter, Aoife Belle, dressed up as the Easter Bunny, on Sunday saying, "Easter is over kids, as I've managed to capture the Easter Bunny!"
What a little sweetie she looks in her pink bunny outfit, definitely one for the 'Cute Snapshots of Aoife' family album.
Una has been telling how Aoife's Saturdays aunties have been spoiling her rotten (Aofie that is, not Una.  Isn't it always the way! You're the one who had the baby and the baby is the one who gets all the pressies - I think it should be the other way round!).
"Frankie presented us with three big bags full of baby stuff she'd been collecting, including a Swarovski crystal-encrusted dummy.  'I don't know how safe it is to put in Aoife's mouth, but it will look lovely on display in her nursery," she revealed. "Rochelle and Vanessa bought her some gorgeous outfits by Dolce & Gabbana and Mollie, who's quite preppy, got her some lovely clothes from Ralph Lauren."
Bubba Watson
If you're not into golf then you won't have a CLUE who Bubba Watson is. Well he's a 33-year-old guy who's just won the most coveted of all golf prizes, the Green Jacket. Apart from a vast cash prize, winners of the Masters win a green jacket and it's the thing they all want the most.
South Africans are very passionate about sport and most of the country would have been on the edge of their sofas on Sunday night (my husband was!) as Bubba Watson and SA golf hero Louis Oosthuizen went head-to-head in a play off!
Bubba beat Louis on the second hole to be crowned the Masters champion 2012; after being presented with his green jacket he said he was looking forward to going home to see his boy and admitted that he hadn't changed a nappy yet.
His 'boy' is now six weeks old, his name is Caleb and was adopted by Bubba and his wife, Angie, two weeks ago because Angie cannot have children.
Bubba's real name is Gerry and was taught to play by his dad (he's never had a formal golf lesson in his life!), who died a couple of years ago after losing his battle to cancer.  As you can imagine winning the Masters proved to be an emotional event and tears freely flowed - for his father and for his new son.