Celebaby: At LAST, Pink's Baby Girl Arrives!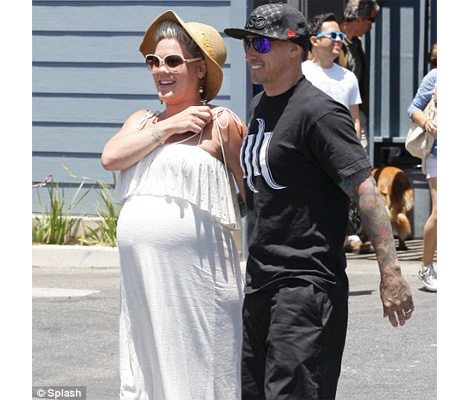 I was really beginning to wonder whether Pink was going to have the longest pregnancy on the planet!
Her due date was originally touted as being April 18; reports in the press on April 15 stated the baby's arrival as being any day now were CLEARLY wrong, it was getting to the stage where people were beginning to wonder whether a) she'd had the baby in secret and was somehow managing to keep things a secret or b) that something had gone terribly wrong.
I took to stalking Pink's Twitter page for some sort of clue a she's quite a dedicated Tweeter, but there was nothing untoward or out of the ordinary there.
So we waited.
Well, the waiting is over and her baby daughter arrived on Thursday; she's been named Willow Sage which, I think is just, is just beautiful - different but not over the top wild and whacky either, phew!
One of those friendly sources had recently spoken to the 'gossip' website radaronline.com saying, "Pink's baby was breached, so they were going to schedule a C-section if the baby didn't correct its position. Her last check-up was on May 12 and she was expected to give birth three weeks from then, so the timing is perfect!"
Seven hours after she was spotted arriving at a Los Angeles hospital the following tweet appeared on Pink's page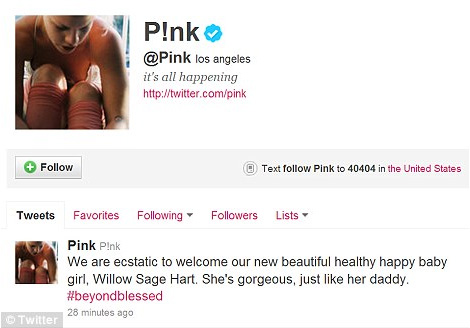 I'm very relived that young Willow has arrived safe and sound and I must confess to rather looking forward to seeing some pictures of her soon...probably on Twitter!