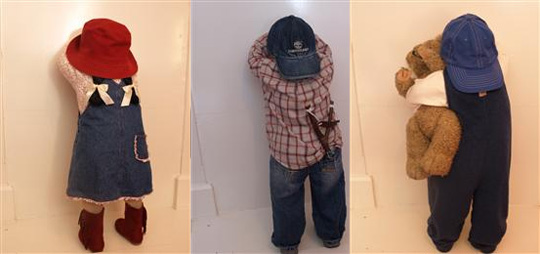 I really don't know what to make of these, not dolls FOR shy kids but, 'Shy Kids' dolls.
I've never been a dolly person but I'm strangely drawn to them and I can't help thinking it's because I just want to hug them so they don't look so upset anymore!
They are life-size dolls that are designed to stand in the corner, or leaning against a sofa or cupboard, facing away from you.  Whether you interpret them as hiding or as being upset will, I suppose, alter how they make you feel but there's something about them that makes my heart ache for them just a little.
They're not designed to be played with by kids; the website blurb says they are 'not designed as toys but as stunning addition to any room' - I'm not sure I'd WANT to have a child that looks upset as a permanent addition to any of my rooms!
Each Shy Kid costs £72.49 and, even though they're really not for me, I don't think that's a bad price.  You can, if you really want to, have a go at making your own Shy Kid - a Shy Kid kit costs £15.99 and is just the ball for the head, the hair for your Shy Kid and a full inventory of everything else you'll need to find for yourself.
Each one is hand-made and the website also says that each Shy Kid has a solid styrofoam head; ok, now my mind is asking all sorts of questions!  Do the Shy Kids have a face?  Well as they're designed never to look at you, the face space is just blank! Can you imagine turning this realistic looking child round to discover that it doesn't have a face?!!  I'm heading into scary and disturbing character territory, a'la Dr Who.
Time for me to say goodbye to the Shy Kids I think! The thing is...I keep wanting to go back and look at them just for a little bit longer.