Celebaby: Tootling Tots, The Adams Family And Model Baby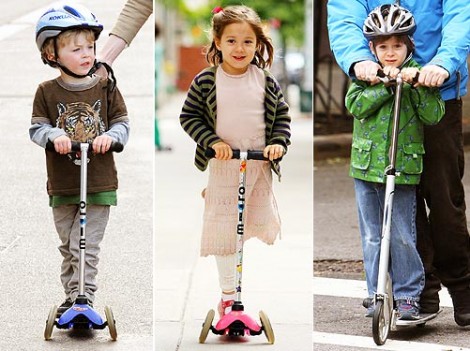 Sleb kids are doing it and so this is one trend that may well be taking off for summer – scooters! Tootling tots George Marsiaj and Ava Jackman were spotted pootling along on their Mini Kick Scooters the other day, looking very happy and relaxed.
 And James Wilkie, along with dad Matthew Broderick, were sporting a shiny silver ensemble as they travelled to school. Fun, eco-friendly and all about getting fit, these are a fab toy for tots. Well, they must be because slebs are doing it!

Amy Adams, star of such splendid movies as Julie & Julia and Enchanted (I love that film, am so sad), is sporting some stylish outfits as the big day approaches. Due in May, the baby is her first and she's very excited about meeting her little one for the first time.
She knows the sex of her baby but the rest of the world has been kept in suspense. Although, the pink baby shower gifts may well be a dead giveaway...

Adriana Lima, the super hot and sexy supermodel, is smitten with the new job of motherhood. She brought little baby Valentina Lima Jaric into the world on November 15th 2009 and she's loving every minute of her new life.
She also seems to have snapped right back into her pre-baby body, and for that I may hate her just a little bit...