Celebaby: It's Time To Leave Chantelle Alone Now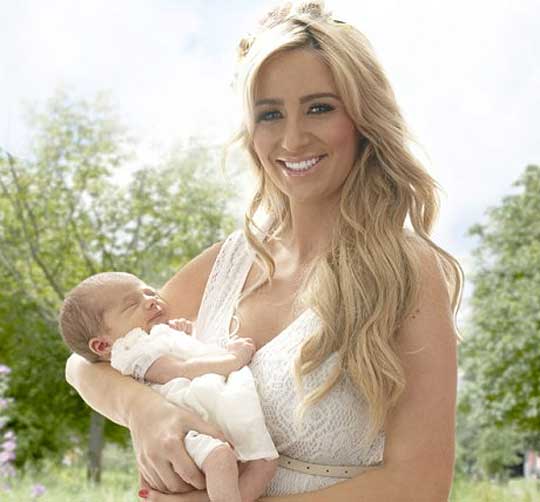 I'm most definitely not a fan of Chantelle Houghton; if you become 'famous' via a reality TV show, then continue to sell the details of your life for cash, you can't really expect the media to leave you alone when things aren't going so well for you.
If you've sold your soul to the British press, especially, you'll also be aware of their savagery, and lack of sympathy for anyone at their most vulnerable - especially if you got together with Alex Reid after seeing how his marriage with Katie Price panned out, and insisted on revealing the minutiae of every minute of every day to the entire world (okay maybe not the entire world but certain readers of certain trashy mags and news rags, at least).
The pictures I've seen in the press this week, however, have been enough to trigger my sympathetic response; even for Chantelle.
This poor girl - for all her reality TV sins - has just had a baby, has ended her relationship with Alex Reid (by far the smartest move she's ever made), needs to find somewhere new to live and is being followed by photographers 24 hours a day.
Photographs of her struggling with her grocery shopping and picking up cans of Red Bull that spilled out of a dropped bag, cannot possibly be in the public interest!  Images of her breaking down in front of an estate agent whilst hunting for houses is of no consequence to anyone, other than the photographer who made some money from selling the pictures (I hope they feel dirty although, having known some photographers who operate in that arena, it's extremely unlikely - she's currently an easy 'cash cow').
If she hadn't just had Dolly I don't think I'd be as 'sensitive' about this week's photographs; when you're a new mum your life has been turned upside down, let alone dealing with a failed relationship, the prospect of your ex revealing all in a book because he's a scumbag AND being tailed by the press.
I really do think the girl deserves a little bit of media peace now - what do  you think: she deserves everything she gets, or she deserves a break now?