Celebaby: Sara Cox A Mum Again!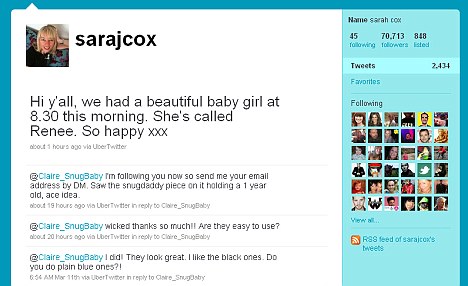 Just in time for Mother's Day, BBC Radio 1 DJ and former ladette Sara Cox gave birth to her third baby this week.
As is the norm for celeb parents these days, she announced the arrival on her Twitter page, saying 'Hi y'all, we had a beautiful baby girl at 8.30 this morning. She's called Renne. So happy xxx'
She later followed up with another Tweet, saying; "Ta for all your tweets my loves. Phone running out so just saying night night. Renee watching her first corrie, a crucial part of her heritage."
The Daily Mail reported that Coxy had been tweeting just hours before she gave birth to the little girl... I wonder which celeb will be the first to Tweet live updates throughout labour?!
Sara already has a daughter named Lola, aged five and and a two-year-old son called Isaac.
Have a lovely Mother's Day, Sara!