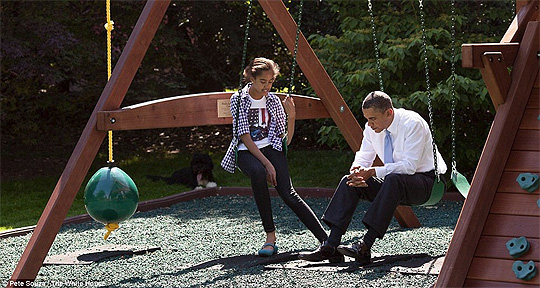 I've just spent the last half an hour, at least, reading an interview with, and looking at, pictures of Barack Obama that have just been released by the White House.
They're behind the scenes pictures of him at work, rest and play at the White House and they just made me SMILE; it's very easy to forget these people are human and living their lives like the rest of us.
There's a funny picture of a young boy dressed as Spiderman (he's the son of a member of staff), catching the US President in the imaginary web he's just slung and this very poignant one of Mr Obama sitting on swings with his eldest daughter, Malia.
As a photographer, in one of my offline guises, it's one of those images I could stare and stare at, regardless of whom the subjects are - it's so close and tender and you can only guess at the conversation being held.
It must be so weird for the kids of seriously influential people, don't you think?  I mean, to the girls, Barack Obama is just their dad who landed the job as the most powerful man on the planet.  But he's still the man who gave them piggy back rides as youngsters and messed around with them, being silly.
In a recent interview with People magazine, it sounds as though being silly is something that still happens with regular occurrence, especially if it means President Obama can, in the process, embarrass his daughters.  Gangnam Style dancing, for example, is done with this sole intent in mind:
"They're cooler than I am. There are things I like that they think are cheesy, like Gangnam Style. I love that."
He also spoke about the prospect of his girls bringing home boys - how do you get your head around that as the boyfriends' parents (kids couldn't generally care less):
"Mum, dad, I've got a girlfriend and her parents would like to meet you..."
"Oh, okay, what are they like; where do they live?"
"...the White House!"
Barack Obama has, in the past, joked that the Secret Service would be employed to keep boys away from Malia, who's 14 now (and stunning, I think!), but in reality this is what he thinks:
"'I think they have pretty high expectations about how relationships should be, and that gives me some confidence about the future.  I joke about this stuff sometimes, but the truth is they are smart, steady young women."
I think they Obama's are a lovely, lovely family and cannot get the image of the President of the United States bouncing around the White House...GANGNAM STYLE!