Celebaby: Madonna v Lourdes and Peter Andre Smells
One of the GREAT things about being the parent is when you can play a trump card that there's just no arguing with - I was rather amused to see that this goes on in Madonna's household too!
Ok, Peter Andre doesn't smell - but he is more than likely going to be smelling the cash rolling in when his new perfume launches soon.
Material Girls
I don't know any mother who hasn't, at some point, said to their teenage daughter, "You're not really going out dressed like that are you....?"
Which loosely translates as, "You're going out dressed like that over MY DEAD BODY!" Cue teenage trantrums, shouts of, "YOU DON'T UNDERSTAND WHAT IT'S  LIKE!" (because, of course we were born old!) and copious amounts of door slamming!
Well it seems that Madonna have similar discussions over their joint clothing range (and maybe in general, who knows!).
In a recent interview with the New York Times, Lourdes said,
Working with my mum is fun, she has great style and I really look up to her style and what she's done and everything, but also there are some points where we really clash in our decision-making
And Madonna's reply?
And that's where I go, 'It's time to do your homework!'
I love that.
Mysterious Girl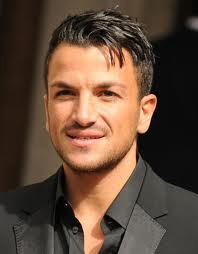 I'm not a fan of celeb' perfumes - in fact, I'm likely to run a mile if anyone tries to squirt me with one!
I think it's naff and even though I might be missing out on some amazing scents, I'll think I'll stick with Chanel and Co.
However, it seems I might be in the minority as Peter Andre's perfume 'Unconditional' was THE best selling perfume of last year - who'd have thought it?!
He's releasing a new one called 'Mysterious Girl' and he's very excited about it, as are all the 'Peeder' fans I'm sure.
Mysterious Girl is my favourite fragrance to date. I've been developing this for over a year. I will be travelling around the country doing perfume signings and meeting my fans.

I can't wait to hear what they think. I hope people enjoy this fragrance as much as I enjoyed developing it for them.
I dunno Peeder, you won't see me for dust! But it seems that suffering at the hands of Katie Price and being awarded Dad of the Year is reaping it's rewards.