Celebaby: Hilary Duff's Up The Duff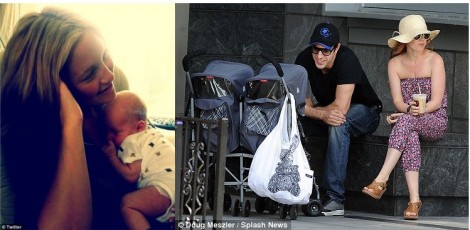 Well, we're still waiting for the latest Spice Baby arrival, in the meantime...
Hilary Duff
HOW can Hilary Duff be only 23?!  It feels like she's been around f o r e v e r!
Last weekend 23-year-old Hilary and her 30-year-old husband, Mike Comrie, announced that they're expecting their first baby.
Hilary is very excited and, unlike many celebs who use Twitter as their baby revelation media, chose to announce her news on her personal website, saying,
"Hello everyone! This weekend, Mike and I are celebrating our 1 year anniversary! I can't believe it has already been a year, time really flies when you're having fun!
We also want to share the exciting news that BABY MAKES THREE!!! We are extremely happy and ready to start this new chapter of our lives. Thanks to everyone for the continued love and support throughout the years"
Bingham Bellamy
The very first picture of Bingham Bellamy - son of Muse singer, Matt Bellamy and Kate Hudson - has been posted by Matt on Twitter and he's CUTE, the baby...not Matt.
It's clearly the only glimpse we're going to get of him for now; Kate, Matt and Bing's older brother Ryder flew into LAX airport with him the other day and he was kept very much under wraps and away from the flash bulbs of the paparazzi.
Sacha Baron Cohen
First prize for the most secretive celeb' couple still goes to Isla Fisher and Sacha Baron Cohen though, and in a rare public appearance the couple were photographed just mooching out and about with their girls.
We've seen and heard nothing of this very private family since the birth of second daughter, Elula, last summer.
Isla was drinking a coffee whilst Sacha was clearly enjoying giving his daughters his full attention.  There's never really anything to say about these two, as they keep very much under the radar, but when they do brave the outside world it's nice to just see them being 'normal'.