Celebaby: A Little Girl For Nell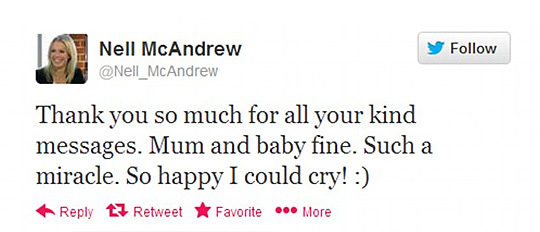 Nell McAndrew gave birth to her second child, a daughter, last Thursday and has said she was so happy she could cry.
The new addition to the McAndrew/Hardcastle family weighed 7lbs 10oz and, at the time of the announcement, hadn't been given a name.  The little girly has a six-year-old brother, called Devon, who took her into school (not on his own, obviously) for 'show and tell'.
Nell announced that she was preggars with baby number two back at the end of October and has looked stunning throughout (cow!)  It must have been something to do with running six miles a day and going to the gym twice a week:
"A lot of people say to me "Should you be doing that?"" she said, back in October, "They're concerned, but there's no need because my body is used to doing a lot of exercise.  To me it doesn't feel very much because I used to run 90 miles a week – twice what I do now."
A third baby could be on the cards, Nell has recently been reported as saying, "I'm enjoying my pregnancy so much that I'm wondering if I might have another baby quite soon after this one!"
Now THAT'S keen!