Celebaby: Drew Barrymore Would Like More Kids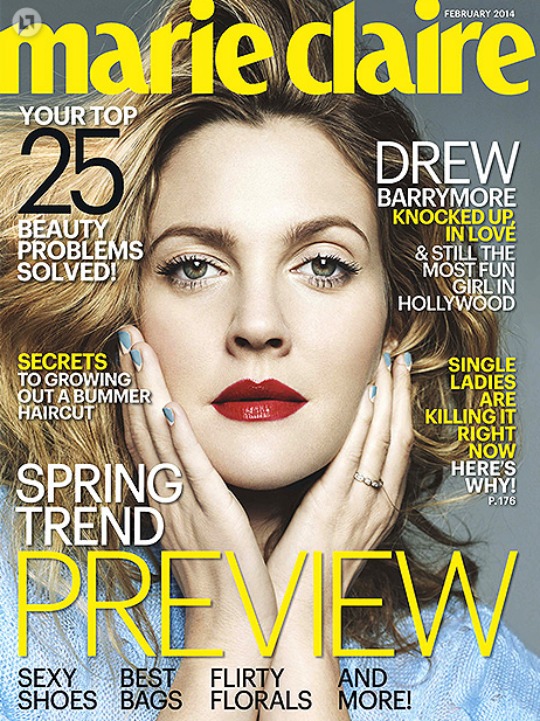 Actress and expectant mum Drew Barrymore hasn't ruled out adding more babies to her brood.
Drew and husband Will Kopelman are already parents to 15-month-old daughter Olive, and their second baby is due this summer.
Drew recently revealed that she is expecting another daughter. She shared the news whilst accepting an award for her cosmetics line, Flower. She said:
"I am so proud to accept this in celebration of women, including my daughter and my future daughter," she told the audience at the industry event."
Gracing the cover of the February edition of Marie Claire, Drew said in an interview with the magazine:
"I think I'd like to have more. In the back of my head, I'm already timing if I was to have another when that would occur." 
But the Hollywood star also admits that her relationship with her own mother is far from perfect. The Mirror reports:
"Drew admits she still struggles to see eye to eye with her mother."

"The star does not talk to her parent and says she does not see a way for them to get on at the moment."

"She said: "I mean, my relationship with my mom is so complicated that... I've always been empathetic toward my mom, and I was even more so when I had a kid and we had a really amazing conversation about it."

"However, it hasn't enabled me to lessen the distance. It's the hardest subject in my life. I've never just been angry with her. I've always felt guilt and empathy and utter sensitivity. But we can't really be in each other's lives at this point."
Here's hoping things change for the better with the arrival of Drew's second child.