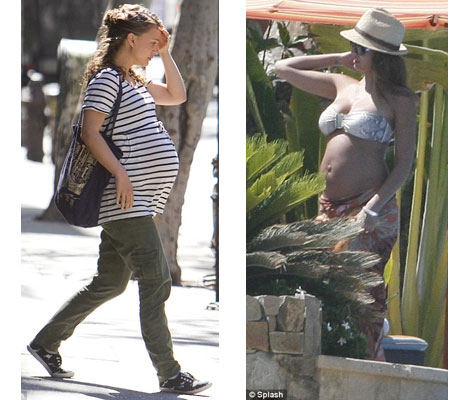 There are a fair few celebrities ready to 'pop' in the coming weeks, Natalie Portman only has a few days to go, Jessica Alba has a couple of months left before baby number three arrives and Pink's baby must be due to land any day now - everything's gone a bit quiet with her lately.
Natalie Portman
Natalie's expecting her first baby any time from now and was accused, by an American Senator, of promoting single-motherhood earlier in the year.
All of that looked forgotten when she was papped going out for breakfast with her fiancee in New York this week.
I didn't know that she followed a vegan diet, but apparently she's relented on it slightly since she became pregnant and has been following a less stringent vegetarian menu since she became preggars.
"'I actually went back to being vegetarian when I became pregnant, just because I felt like I wanted that stuff," she said, recently, "I was listening to my body to have eggs and dairy and that sort of stuff.

Jessica Alba
Actress Jessica Alba is the latest celeb' to be snapped preggo-belly-out-in-a-bikini on the beach, and I have to say she looks fabulous.
I'd have been carted off by Greenpeace if I'd dared to be bikini-clad when I was pregnant with my kids *sigh*
She's expecting baby number three with her husband, and film producer, Cash Warren (what a GREAT name!) and was enjoying some time on a beach in Mexico to belatedly celebrate her 30th birthday.
Jessica announced her pregnancy in February and told Vogue magazine that it makes her feel liberated and less concerned with how she looks.
Pink
I've looked everywhere for news of Pink's baby and there's nothing! Nothing since the 15 April which stated the little one being due 'any day now'.
I even resorted to looking her up on Twitter to see if I, along with the rest of the world's press, had missed an important announcement... we haven't, well not as of the 8 May anyway.

Shame, I know that feeling only too well - the being a walking reminder for birth control, not the Vegas casino bit!
I guess we'll have to keep watching this space.