Celebaby: Bones' Big Belly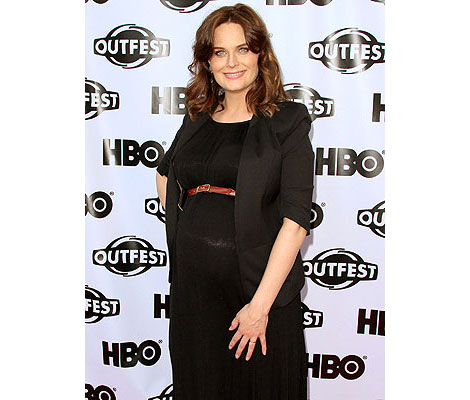 I'm bored of Posh, Becks and Harper Seven already, so that's the only mention they're going to get today.
Emily Deschanel and Baby Bones
Me, my husband and the teenagers love watching Bones (if you've never watched it, you should) and Emily Deschanel, the actress who plays Dr Temperance Brennan aka Bones, is looking anything but skin and bone with her lovely baby bump.
I can't find a specific due date, so we'll have to be content with the quoted 'later this year'.
One of Emily's high school friends is expecting a baby just before her, and she says this is proving to be extremely comforting.
"Now we're sharing stories about our cravings and how our bodies are changing. We compare notes. Having someone like this is so reassuring. It connects me to an essential part of myself."
I can relate to that; me and Tamsin were pregnant at the same time and there are just three weeks between my youngest son and her daughter.
Emily is also a vegan and, speaking to Ladies' Home Journal magazine recently, she tells how she's having to stick to her guns in the face of well-intentioned 'advice'.
"I still have to defend myself because people don't understand it.  As a pregnant woman especially, people will say to me, 'You must eat meat and dairy.' You really have to tap into your self-esteem whenever people try to convince you you're making the wrong choice."
I think Emily is just lovely and can't wait to hear more news about 'Baby Bones'