Celebaby: Bleakley v Rivas

So, a quick bit of history just in case you don't know the main players in the public soap opera that is Christine Bleakley, Frank Lampard and Ellen Rivas' lives.
Frank Lampard is a footballer and plays for Chelsea, he used to be engaged to Ellen Rivas and they have two girls together.  Three years ago, Ellen called off their engagement and appears to have regretted it ever since and Frank is now engaged to Christine Bleakley of TV presenting fame.
There's absolutely no love lost between Ellen and Christine and that all seemed to come to a head over Christmas time - Ellen has run away to India to 'find herself' on a spiritual journey and so the girls are currently with Frank and Christine.
Everything kicked off on Christmas Day when it was reported that Ellen had tried to call the girls but Frank wouldn't let her talk to them; the other side of the report was she'd called at 3am in the morning UK time, having forgotten the time difference, and Frank (rightly so, I think) wasn't about to wake Luna and Isla up at crazy o'clock.
Ellen took to Twitter and went all out for Christine saying, "You would have thought the girlfriend would have a little maternal understanding..." and it all kicked off from there! Mainly with Christine's friends jumping to her defence, whilst Christine simply said, "I'd happily put the record straight but really don't think twitter is a place to do it when children are involved x."   That said, she fanned the flames just a little bit by retweeting the things her friends were saying...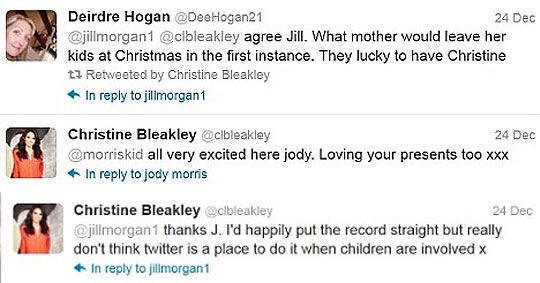 The waters seemed to calm down a bit after that but the latest pictures in the papers, of Christine holding hands with Luna and reports that the girls have started calling her 'mummy' is bound to set to Ellen Rivas' blood boiling.
I've been in the middle of a huge parental battle and it's no fun, the only people who win are the lawyers.  Ellen needs to grow up, the press need to back off and everyone must remember that the girls' happiness and security is the only thing which is important - not who gets portrayed as the good guys by the media.