Celebaby: Baby Number Five For Jools?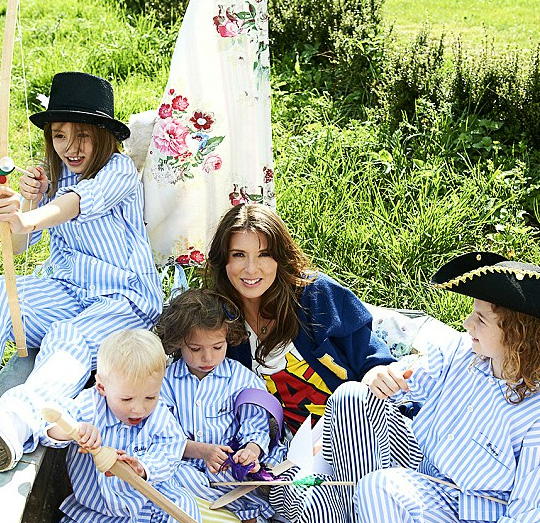 Baby number five for Jools and Jamie Oliver could be on the cards; in a recent magazine interview, Jools has said she'd love a fifth child but, and I quote, "know it would be wrong."
Taking over population of the planet out of the equation, I'm rather intrigued by this statement - why would it be 'wrong'?
It's not as if they're not financially and emotionally able to support their family; it's not as if drama and sordid headlines follow them around wherever they go.
But Jools has said that she doesn't get to see her famous chef husband much already, "I never get any time to spend with Jamie as it is. He has said, give it a couple of years, then maybe we can think about it..."
A couple of years from when?  Their youngest son, Buddy-Bear, is 22 months old now; does this mean there'll be another Oliver child making an appearance within the next year?  Or two years from now?
If it's two years from now then Poppy will be 12, Daisy will be 10, Petal, five and Buddy coming up to four.
Jools also revealed how the kids don't like Jamie doing the school run - apparently, it's just too much hassle because the other kids just want them to get Jamie's autograph, and for Poppy it's all too embarrassing - the downside of having a famous father!
SO, assuming the Olivers do have another child - anyone care to take any bets on what the name of baby number five would be?!  Predictions on a virtual postcard please.
Ohhh, talking of predictions - I want to put something on record: having seen some pictures of Jennifer Anniston in the last couple of days, I have my suspicions that she may be pregnant.
Not because she's looking obviously rounder (although there was one) but because she appeared to be taking extreme care to keep her stomach very well concealed by one of the biggest bags I've ever seen.
I may be wrong of course, but my baby bump radar was wailing at the top of its voice - so let's wait and see whether or not I'm right!