Celebaby: Miranda Kerr's All Smiles Despite Split From Orlando Bloom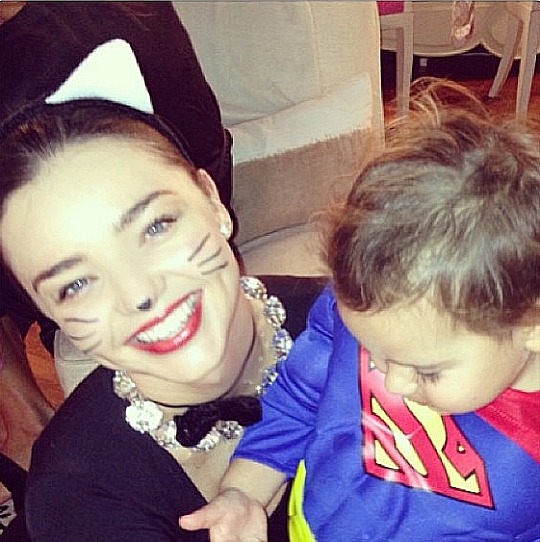 Miranda Kerr showed the world her happy side at Halloween, despite recently announcing the end of her marriage.
The mum of one took to Twitter to share a cute snap with her followers. Dressed as a cat, she posed with her two year old son, Flynn, who was sporting a superhero costume.
Entertainment Weekly reports:
'"We love each other," he told host Katie Couric. We're a family. We're going to be in each other's lives for the rest of our lives. There's no question, you know, that for the sake of our son and everything else, we're going to support one another and love each other as parents to Flynn and you know life doesn't sometimes work out exactly as we plan or hope for but fortunately we're both — we're adults," he added. "I'm 36 now, and she's 30. We're professionals. We love and care about each other and we most of all, love our son," he said. Kerr gave birth to their son, Flynn, 2, in 2011.'
In 2011 Kerr told People magazine how much she enjoyed pregnancy and motherhood:
'"I loved just watching my tummy grow every day," she recalls fondly. "I would go to sleep and then I would wake up and it would be a little bit bigger, and I just loved watching the growth that was happening inside of me." Now 4 months old, Kerr's little "heart breaker," has captivated his mama's heart with his gummy grins. "When I see him smile it brightens my whole world," she raves. "It's so rewarding to watch him smile and laugh. It just makes everything better. When I see him smile it makes me realize just how lucky I am."'
Pretty awesome that she's still smiling, cos I reckon I'd be weeping into my ice cream if I'd just split from Orlando Bloom. Long may the happiness last, Miranda!