Celebaby: Tell Us Something We Didn't Already Know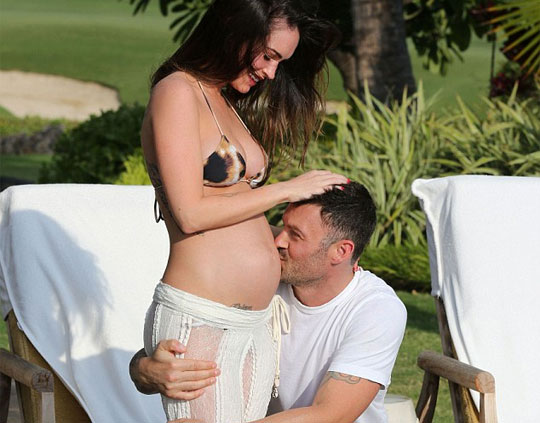 It's obviously becoming the new celebrity mother-to-be 'thing' to do - wait until your bump is massive, let the press and everyone else wonder whether you just started eating all the pies or whether you're up the duff, and THEN...sort of confirm it without actually saying anything.
Drew Barrymore has kept schtum about expecting, despite being papped leaving a medical facility clutching what looked to be ultrasound scans; her belly has been getting bigger and bigger and been hidden underneath baggier and baggier tops with NO word from her or her people.
Then she got married and one of the wedding photos showed her new husband resting his hand on her stomach in that 'Ahhhh, our baby's in there' kind of way.
Megan Fox has also adopted this approach.
Speculation as to whether or not she's in the family way has been rife over the last couple of months; she notoriously tight-lipped about her personal life anyway, so it was no surprise that an announcement wasn't forthcoming.
Megan has been photographed on her hols with hubby, Brian Austin Green, in Hawaii engaging in some typical 'pregnant couple' poses - I will NOT believe anyone who tells me these pictures were set-up and staged, they're just far too contrived.
Reese Witherspoon is the only celeb' who's been on our bump watch/announcement radar of late; she's also the only one who's actually confirmed it by saying, "I'm going to take a little time off and go and have a baby."
Tell us something we didn't already know!