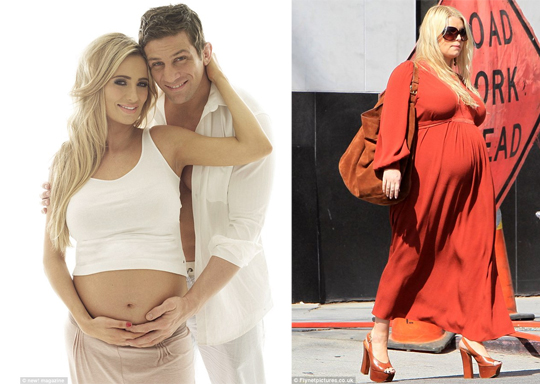 Today's Celebaby has a bit of  'car crash morbid fascination' about it today; I knew I should have stayed AWAY from any article featuring Alex Reid and the words 'gruesome confession' in the headline, but I couldn't help myself - I think I threw up a little in my mouth, though, when I read it. You've been warned, maybe skip that bit if you're eating brunch!
Alex Reid
I know he's used to living in the reality spotlight and, I suppose, you could almost admire his frank openness but there are limits.  Learning that he intends to drink Chantelle's breast milk when she's had their baby later in the year is just something I really didn't need to know (and because I don't want to be alone in being scarred by that knowledge, I'm sharing it with you guys!).
The new parents-to-be were spotted looking at wedding dresses at the Wedding Show last month (we'll have to brace ourselves for yet another 'intimate portrait' on the pages of a certain glossy magazine) and have recently discovered they're expecting a little girl.
"I cried. It was so shocking. I felt like I knew that little boy. When I found out it was a girl, I missed him. It took a while to sink in... we didn't have a preference," Chantelle said, "it was just that I had a strong feeling it was a boy. I didn't expect it.'
I almost cried when I read they were pregnant - please let their public personas not be real, that they morph into the likes of you and me behind closed doors!
Jessica Simpson
In a bid to try and cleanse our collective minds, let's focus on Jessica Simpson being the next celeb' mum who's most likely to welcome their new baby into the world.
She is due any day know and is bound to be glad about that, her bump is MASSIVE!  She's even gone from wearing the most enormous pair of wedges at the beginning of the week, to wearing flip-flops now - much more sensible.
I don't know how these preggars celeb' mums do it!  I think they must have secret shoes in the car, or their oversized bags, because I couldn't do heels through any of my three pregnancies, no matter how hard I tried - mainly because my feet were more puffy and squidgy than profiteroles!
I think we'll have a Simpson baby announcement before the weekend is out.