Celebaby: Stylish Silverton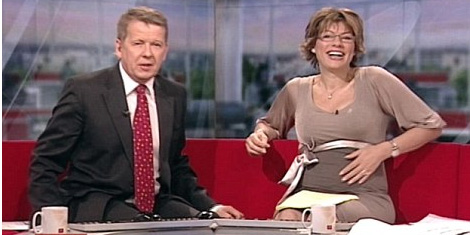 If you've ever watched the BBC News then you'll know who Kate Silverton is.
You'll also know she's expecting her first baby and some of you might know that it's been a long, hard road to get this far.
I remember watching a programme years ago about IVF treatment, which Kate presented.  In it she revealed that she only had one ovary due to the other one being lost during a necessary operation to save her life when she was 29.
It was heartbreaking to see her with small babies whilst her voice over narration spoke of her fears that she would never experience the joy of having her own children.
Kate married her husband last year and, aged 37, together they embarked on an IVF journey.
Four rounds later and there was still no success, to make matters worse Kate had been told that even with the highest doses of  IVF drugs her chances of becoming pregnant were between three and five percent.
Here's the amazing part of this story - the baby that Kate's carrying was conceived naturally!
I can't even begin to image how that would feel; Kate's recent comments give a little bit of insight and has admitted she can't think beyond a couple of days at a time...
"As any mother-to-be will know it is an incredibly vulnerable and precarious time. I would not have revealed it publicly except people had begun asking questions and it's obvious I have gained weight, especially on screen."
She says she had some symptoms such as craving bacon sandwiches and two shorter than usual cycles, but she just put it down to early onset menopause.
"When I saw a second blue line appear on the test I couldn't believe it. I had to do another before I even entertained the idea that I might be pregnant!"
Doctors warned her that the positive result could be a tumour that was mimicking pregnancy and sent Kate to see a specialist, "Professor Campbell turned on the Doppler, the instrument that picks up the heartbeat, and the sound was something I will never forget," Kate said.
Kate's pregnancy wardrobe is one I would have envied if pregnant at the same time; she was recently photographed wearing a lovely blue Isabella Oliver dress when she went to visit Ben Fogle's new baby.
She's also worn Tiffany Rose dresses on-screen for work - I lusted after both maternity designers when I was carrying my youngest.
It's nice to tell a happy story and one which I hope goes on to have the happiest of endings!