Celebaby: Another Royal Celebaby Wedding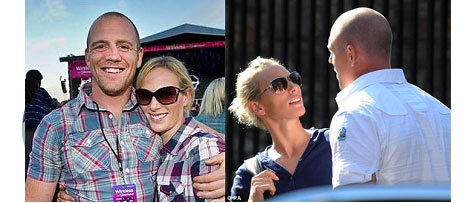 Yep, we have another Royal Wedding to 'attend' today; although, for the most part, I don't think we're really going to get to see much of it at all.
The Queen's eldest granddaughter, Zara Phillips, is marrying England Rugby captain Mike Tindall today, and if I know rugby players (which I do) then I think it's safe to say we'll hear more about the goings on at the reception than we will about anything else.
And why not?  Zara makes her own way in the world and she doesn't carry an HRH title so she has slightly more control over what she should and shouldn't be seen doing.
That said, she has been forced to turn down an offer of official glossy magazine coverage of her wedding, in return for cash of course, as apparently the Queen was reported to have vetoed it.
The usual Royal suspects are going to be in attendance but there won't be the procession of foreign dignitaries, heads of state or other royalty being driven in by the bus load a'la William and Kate's wedding back in April.
Zara and Mike are going to tie the knot at the Canongate Kirk in Edinburgh, which only became available for today's date when another couple who had already booked it agreed to move to a different venue; Palace officials have said that this was NOT done at the request of the Royal family.
The original Canongate Kirk bride-to-be says, "We received a phone call from the minister who'd asked would it be possible for us to consider moving to another venue as Zara and Mike were keen to get married there. There was no money, cash incentive or anything like that. Out of goodwill, we were just happy to move for them." Isnt' that nice!
I'd love to be a fly on the wall at the reception you know; the best man is Iain Balshaw, a Biarritz player, and this is causing some royal officials more than a few sleepless nights.
If they've read Lewis Moody's - former England Rugby captain - comments today they'll be on the verge of apoplexy all day!
"A northern monkey (Iain Balshaw) delivering a speech in front of the Royal family isn't going to go down too well! There's plenty of smut on Tind, so I'm sure it will be very entertaining. I'm sure Iain's absolutely bricking it.
It will be interesting to see who they put the Queen next to, though. That will be quite entertaining."
But it's not all about the Royals; what of Mr and Mrs Tindall?  They're finding themselves in unfamiliar territory too.
Mrs Tindall is a social worker and has spoken very fondly of her future daughter-in-law, saying that she's 'nice and ordinary'.
She's also commented on Zara's parents - Princess Anne and Captain Mark Phillips.
"All I can say is that her parents Anne and Mark have been most welcoming and kind. I would, however, never call her [Anne] by her first name, you have to address her as ma'am. It will be strange to be connected to the Royal family. We didn't expect any of this, we are just ordinary people."
WHAT FUN!  I will be glued to the media later on today and tomorrow for any news and pictures of raucous wedding 'receptioning' - because it really won't be anything else.
I hope Zara and Mike have the most FANTASTIC day.