Celebaby: Pink's Not Feeling In The Pink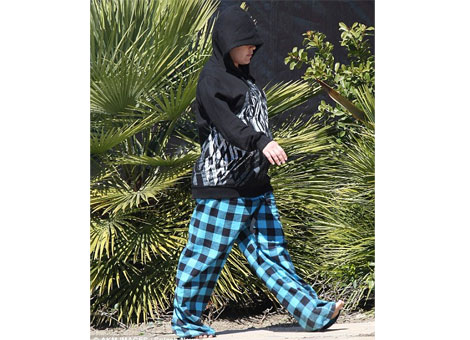 Pink's baby is due soon and she was snapped taking a walk out in Malibu recently wearing some ultra baggy clothes.
I'm not a huge fan of her music but I love that she clearly feels confident enough to just wear what's comfy in the final stages of pregnancy, rather than feeling the need to look good for the cameras.
Ohhh this is coming out all WRONG! She doesn't look bad in her checked trousers and baggy jumper at all - just like a pregnant mum-to-be who really would rather be comfy than pander to the celebrity image of perfection.  Am I just digging myself a bigger and bigger hole here...?
She also came down with flu and took to Twitter to get some tips on how to deal with that...
"OK my sweet-tweets.... what does a pregnant mama do for the flu without antibiotics?"
She got lots of responses and went on to thank everyone saying they'd made her feel 25% better.
What didn't make her feel better was her new haircut...
"The woman that did my hair butchered it. I hate it. Thanks for pointing out how much you all hate it, too. helpful."
My favourite Pink quote so far though has to be this one (she's a bit of a fitness buff like me, so this is rather an 'in' joke, but is very funny)
"My baby's body fat is 2 to 3% this week. I'm so jealous."
Well it made ME laugh.