Celebaby: Pictures of Zachary (Elton John Junior) And Andrea Corr Joins The 2012 Bump List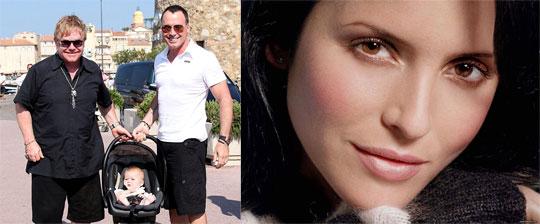 Can you believe that Elton John and David Furnish's son, Zachary, is a year old already?  Nor me, 2011 really has flown by and we have another bump to add to the list of celebs expecting new arrivals in 2012 - Andrea Corr of The Corrs fame has announced that she's expecting her first baby.
Zachary
After the initial press reports and the obligatory glossy magazine spread, all news about Elton John, David and Zachary seemed to have been told, apart from the odd snippet in the press about which holiday destination they were at during various months of the year.
We haven't seen much in the way of photographs of Zachary though, until now.  A series of pictures have been released and I have to say, he's a cute little chap!
Here's are three of the latest ones for you...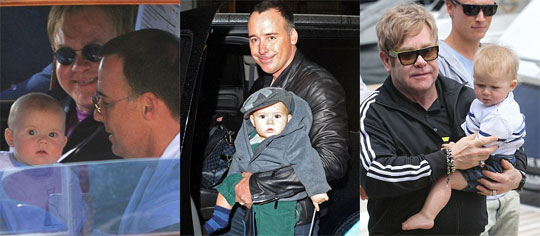 Andrea Corr
Holly Valance and Andrea Corr have something in common and it's not music, both have billionaire husbands (well, Holly has a billionaire fiancee - he popped the question on Christmas Eve).
Andrea (37) is married to Brett Desmond (34) (I've no idea who he is), is thought to be around five months pregnant and took to Twitter after an Irish newspaper revealed that she was expecting...
"Thank you all so much for such lovely kind messages and well wishes. I'm so happy."
This little baby Corr will have plenty of older cousins to play with as Andrea is the last of the musical Corr siblings to have a baby, although she's not been deliberately holding off, earlier in the year she had this to say to The Telegraph...
"I'm as ready as I'll ever be. And from what I'm told you're never really ready. You can't say you're not ready for ever, so you might as well go for it. If that happens that would be a priority.
'I'm not not allowing it to happen, if you see what I mean. I'm leaving it to He Who Knows Best, and she, my (late) mother. I believe she's up there working away. I think she looks after me."
Well, happen it has and many congrats to them both.