Celebaby: Paris And Her Posters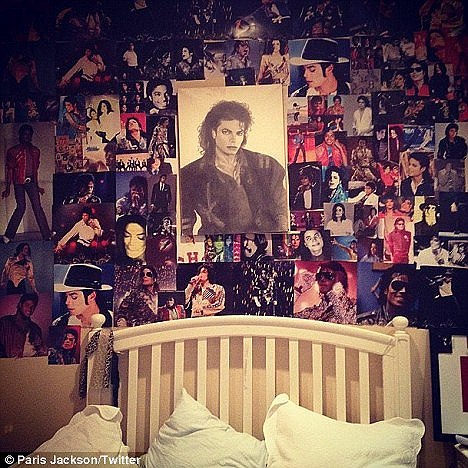 I went to school with a girl who was Michael Jackson MAD!  Her bedroom was like a shrine to him and I think she went to see him in concert with her mum when he came to London sometime in the mid 80s.
LOTS of people would have had Michael Jackson posters on their walls, but I wonder what it feels like when the posters you're sticking up feature your dad?!
Well let's 'ask' Paris Jackson!  She's a prolific tweeter and after the recent tornado of a family dispute that tore through her life a couple of weeks ago, she seems to have been able to resume normal teenage duties (now that her grandmother has been able to get back home to her grandchildren) - sticking posters of her idol onto her bedroom wall (I had Adam Ant on mine, then Bros a fair few years later).
Along with the picture of the homage to her dad, she said, "A whole wall of his pics is the LEAST I could do."
I really like Paris Jackson, for such a young girl who's not exactly lead the most normal of lives she seems pretty normal and level headed to me; I'm rather looking forward to seeing her grow into a strong, confident and self-assured young lady.