Celebaby: Paris Jackson On Ellen de Generes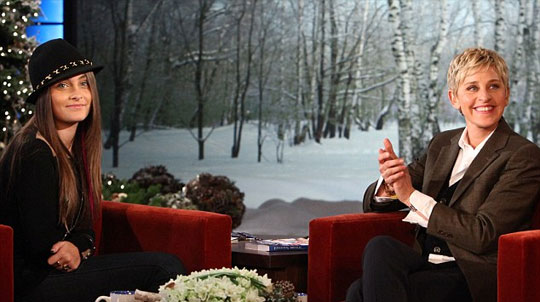 The more I see of Paris Jackson the more impressed by her I become; she's 13 years old, utterly stunning already (in my opinion) and for all the craziness that's surrounded her she comes across as a very well-rounded, balanced and grounded young woman!
Appearing on the Ellen de Generes show she's spoken about her childhood, the crazy masks that Michael Jackson used to have to the kids wear (do you remember that? Do you remember how we all thought he'd turn the kids into deranged lunatics because of his 'press paranoia'?) and how she understood and was/is almost grateful, to a certain extent, as when she first went to school no one knew who she was.
"I'm like, "This is stupid, why am I wearing a mask?" But I kind of realised the older I got, he only tried to protect us and he'd explain that to us too.  I do have a regular childhood. I mean, I'm treated the same. When I came to my new school they didn't know who I was. I was like, "Yes, I have a chance to be normal"."
I told you the other day that Paris has landed herself a lead role in a movie; she's clearly a girl who knows what she wants and knows the right way to go about getting it.
I've not seen her go out dressed inappropriately, I've not seen her be anything less than polite and dignified - maybe Michael Jackson had this parenting malarkey a little more sussed than we gave him credit for and she's certainly a credit to him.