Celebaby: Another Kardashian Baby On The Way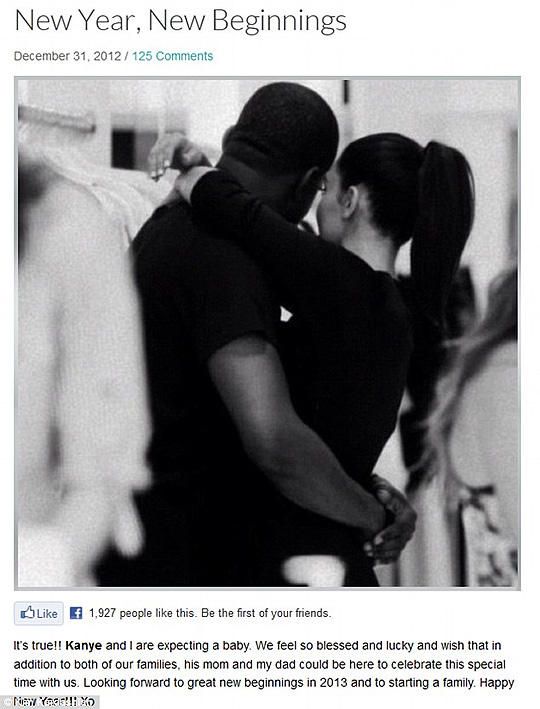 STOP THE PRESSES! Kim Kardashian and Kanye West are going to have a baby!  Oooooh, let the whole world rejoice in the continued Kardashian expansion!!
(Excuse me a minute, I must just wipe all this sarcasm off my keyboard before I carry on...)
So, Kanye West dropped the baby bombshell on Kim's family, his family, his fans and Kim by announcing the news during a concert on Sunday - Kim had no idea that he was going to stop the show and tell everyone they were expecting!
Yesterday, Kim took to her Twitter account and posted:
It's true!! Kanye and I are expecting a baby. 'We feel so blessed and lucky and wish that in addition to both of our families, his mom and my dad could be here to celebrate this special time with us. Looking forward to great new beginnings in 2013 and to starting a family. Happy New Year!!! Xo
Kim and Kanye have been going out together for the last eight months and Kim is, of course, still married to Kris Humphries - do you remember him?  The ridiculously tall basketball player she married, in an obscenely expensive wedding ceremony, only for the marriage to last about two weeks - Kris wants the marriage annulled as he claims the whole thing was a fraud!
Kim's sister Kourtney - who's recently had a baby - also took to Twitter (I swear these people have nothing better to do!) to join with all the online baby excitement:
"Been wanting to shout from the rooftops with joy and now I can! Another angel to welcome to our family. Overwhelmed with excitement!"