Celebaby: IVF for Jordan And Baby Three for Gwen?
IVF for Jordan and Alex

They say there's nothing money can't buy and ohhh how I wish this was the case with Jordan and IVF!  The thought of there being another child caught up in the circus that is the life of Ms Price and Co is just too much to bear.
Alex and Jordan have been spotted popping in and out of the Portland Hospital and a 'close friend' had this to say to the News of the World:
"Katie and Alex really want a child to cement their relationship. But he's had a problem with a low sperm count and it is proving difficult for Katie to conceive. They've been practising a lot but it appears Alex is firing blanks, so Katie has turned to IVF to help make it happen."  URGH, far too much information thank you 'close friend'!
I was in South Africa recently and thank goodness not many people there know who she is because quite frankly I'd deny my status as a British female citizen if anyone assumed us UK girls were all like her!  There's no denying she's a shrewd business woman but I wish she'd use some of her cash to buy some dignity and self-respect!
Baby No.3 for Gwen Stefani?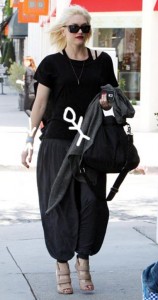 I like Gwen Stefani.  I like the quiet dignity that she has when it comes to her family; you don't see every second of her life splashed all over the papers or on the TV, she and Gavin just get on with their lives with their kids and their careers and shows there really are two different classes of celebrity:  the tacky desperate ones and the dignified secure ones.
As a celeb' who chooses to try and maintain some degree of privacy it's got to be tough when you're expecting, knowing that as soon as news of it gets out the world's media are going to be keeping an even closer beady eye on you.
Gwen was photographed in New York in very baggy clothes, sporting what looks like a baby bump and wearing a Sea-Band bracelet which is used to combat motion and morning sickness; an 'onlooker' has been reported as saying:
"She was pulling at her shirt to keep it away from her body. It seemed really strange -- but then, when she turned to the side, I could see why. She definitely had a baby bump!"
And a 'source' has added fuel to the 'is-Gwen-preggars?' fire by revealing to OK! magazine:
"Gwen is having a really rough time this pregnancy. She had all-day morning sickness for a while with Zuma, but she's sicker this go-round and has been feeling exhausted and dizzy."
Gwen's publicist is keeping mum on the subject so we'll just have to wait and see!