Celebaby: Dion Twins' Debut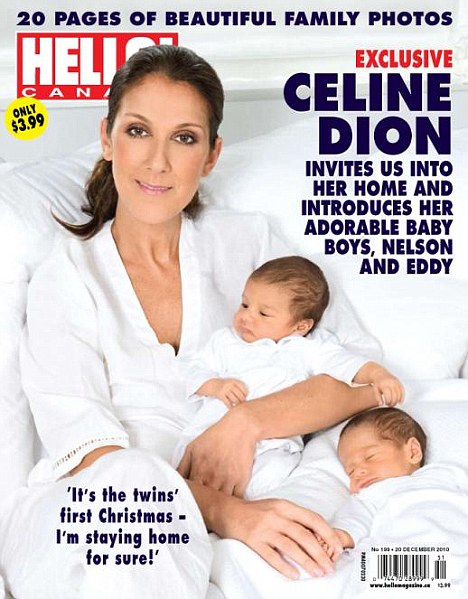 On 23 October Celine Dion's twin boys arrived, then there seemed to be a Dion news blackout as everything to do with them went very quiet!
Well now it all makes sense, they are the cover stars of 'Hello! Canada' magazine, and I have to say...those little twin boys are C U T E!!!
They've been named Nelson and Eddie, "We named Nelson after Nelson Mandela. We went to South Africa on the last tour and... it was such an impact to meet him, what a hero and we decided to name a son after him."
Eddie was named after Eddie Marnay, a lyricist who has worked extensively with 42-year-old Celine and the likes of Barbara Streisand and Edith Piaff (tell me you won't be singing 'Non, je ne regrette rien' in your bestcomedic wobbly voice for the rest of the day now!)
"We wanted our sons to be able to say they were named after two wonderful people."
Celine also talked about how she and her husband, Rene Angelil, struggled to fall pregnant; the twins are the result of six rounds of IVF treatment.
"We tried five times before I got pregnant. On the sixth try, it worked out. We were blessed twice. It's extraordinary to be parents again!"
She also revealed that she had, in fact, been pregnant with three babies and confessed that she still thinks about the one who isn't with them today.
"One little baby decided to step back to help the other two survive. The doctors said to me if there's something wrong, natures takes it's course. I still think of the one who stepped back. I'm sure every woman has the feeling about the little one that's not there."
It's all very lovely to see pictures of Celine looking fabulous with her boys, but where are the bags under the eyes?  Where is the face, mind, body and soul that's ravaged by sleep deprivation?!
Celine admits that she's getting NO sleep and the only way to fit everything is to stay in her pyjamas all day - now THAT'S more like it, I remember doing that!
"My little boy, René-Charles, has a fever and I want to be there for him but I am breastfeeding the babies every two-and-a-half hours, then sometimes I have 25 minutes and I think, do I shower, eat or sleep?
It's a great challenge and it's all amazing. All day I'm in my pyjamas and it's overwhelming but all good."