Celebaby: Anything To Declare? And Terrible Twos
In today's celebaby, Sandra Bullock's divorce to Jesse James is finalised and the Jolie-Pitt twins turn two!
Anything to Declare?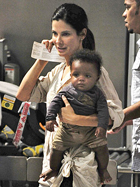 Sandra Bullock was spotted at the airport with six-month-old Louis Bardo on their way to Austin, Texas. Does she have anything to declare?
"He's just perfect," she says, "I can't even describe him any other way!"
Sandra adopted her little ray of sunshine, who was born in January, shortly before she called time on her marriage to Jesse James in April.
'Sources' (what would the gossip columns do without all of these friendly sources willing to dish the dirt?) have said that whilst the divorce is now all done and dusted, the couple will continue to be in contact and share parental duties for James' children Sunny (6), Jesse Jr (12) and Chandler (15).
At least those kiddies are going to have one decent parental role model in their lives to look up to!
Here Come The Terrible Twos!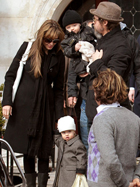 Give me the terrible-twos over terrible-teenage-tantrums ANY DAY!
Knox Leon and Vivienne Marcheline Jolie-Pitt turned two yesterday - my goodness, it only seems yesterday that they were born! It's utterly terrifying how quickly time is flying by!
At the tender age of two the twins, along with the rest of Team Brangelina, are already widely travelled. Whilst I can't identify with the HUGE family ethos that Angelina and Brad have, I can completely relate to moving around a lot.
Angelina says it was purely as a result of not finding quite the right place where they all wanted to settle.  She also went on to say that she wanted them to be able to...
"...find home wherever they are in the world, andwhere they can find friends wherever they are in the world."
I find myself agreeing with this , home should definitely be where the heart is and not the bricks and mortar you live in.
Happy birthday to Knox and Vivienne!