Celebaby: The Blooming Blooms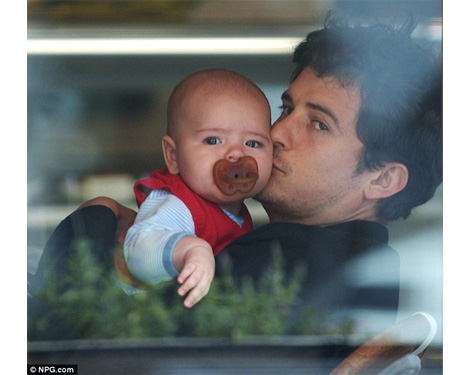 The Bloom family - could they be any more beautiful?
1) In certain guises I think Orlando Bloom can look rather hot; I'm looking forward to seeing him back with long blonde hair and pointy ears when he reappears on the big screen as Legolas the Elf in The Hobbit (he does nothing for me as Jack in Pirates of the Carribean though).
2) Mrs Bloom, aka Miranda Kerr, gave birth to their son five months ago and pinged back into stunning shape almost overnight - I shouldn't like her for this reason alone, but I do.
3) Could young baby Flynn Bloom BE more gorgeous?! He's properly handsome, cute and clearly destined to be one of the beautiful people.
Miranda is the face of lingerie giant Victoria's Secret; she's currently away on business in South Korea and has spoken, on video, to journos about how she has managed to stay looking SO amazing
Click HERE to hear Miranda's secrets for babies and bikinis
So whilst Mrs Bloom is out of town, Mr Bloom is holding the gorgeous baby and the boys have been doing a bit of male bonding over coffee; they were papped at the Chaya Cafe on Melrose Avenue in Los Angeles the other day.
I have no qualms leaving any of my children behind when I go away; I don't miss them when I'm not with them and I'm wondering if a) I'm just weird or b) it's something that comes with having teenagers instead of cute babies.
Anyway, this is Miranda's first time away from Flynn and she is firmly in the 'I'm missing my child!' camp, it was this tweet that gave it away...
Just arrived in Korea for work for one day. First night away from Flynn… Miss him so much already :-(
I can't help it, I just want to roll my eyes and tell her to toughen up; I think I'm more 'tiger mummy' than 'maternal pussycat'.