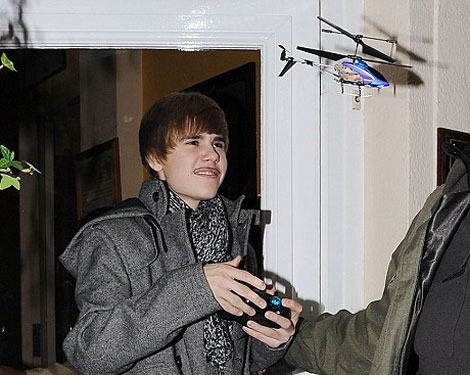 Nooo Justin Bieber isn't about to become a father - well not that I know of anyway (what a terrifying thought that is though!)
It's quite sobering to think that Justin Bieber is the same age as my eldest, and it's easy to forget that there are parents in the background having to deal with their super famous offspring!
In a recent interview with Fearne Cotton he revealed that his mum travels with him and recently cancelled his mobile phone contract because they had a row (is it wrong to be laughing here!?)
"Mum travels with me. We argue yes, I think every parent and son argue, but I love my mum. I think it's good she travels with me but sometimes I need a break because I'm with her 24/7, but I love her, I like being with her.
The other day she cancelled my phone plan. We got into an argument about something stupid, and she was like, 'Give me the phone', and I was like, 'No', so she just went and cancelled it."
So you're worth millions and millions, the entire female population of a certain age fancies you, you drive a Lamborghini but your mum still has control over your mobile phone contract; hilarious!
I can't help wondering where he'll be in 10 years time? Rehab' with all of screws loose perhaps if reports of his recent behaviour at an upmarket London Indian restaurant are to be believed.
Apparently, he drew a fake moustache on his face and was playing with a remote controlled helicopter, then when his big bodyguards tried to usher him into this waiting car he got a bit stroppy and threw a kiddy tantrum.
I'm not sure whether I'm sympathetic or not - even with more cash in the bank than he knows what to do with, he's still a 16-year-old boy...and living with one of those isn't much fun, being one isn't so great either by all accounts.
At least that's what mine reguarly tells me.."YOU DON'T KNOW WHAT IT'S LIKE FOR ME!" Maybe I should just cancel his phone contract and see if that works.
Hey, if it's good enough for Bieber's mum it's good enough for me!