Celebaby: Boy Joy For Dannii
I fancy a couple of nice stories for Celebaby today! It's happy parenting smiles all round for Dannii Minogue and her model boyfriend, Kris Smith. Wayne Rooney and family also look less than upset about England crashing out of the FIFA World Cup too.
Boy Joy Drama For Dannii

Dannii Minougue gave birth to a baby boy this Monday.  Ethan Edward Smith made his entrance into the world with more than a little bit of drama! Dannii had hoped to have him at home but was rushed to hospital on advice from the medical team present when complications arose.
She was admitted into the public hospital under a false name so that her being there would be kept secret and the couple also seem to being keeping quite tight-lipped about everything.
Dannii's spokesperson has released the following statement:
"Kris Smith and Dannii Minogue are thrilled to announce the arrival of Ethan Edward Smith on July 5.Mother and baby are doing well and Dad is very proud. They request their privacy at this special time to adjust as new parents."
Kris Smith also posted an announcement on Twitter (remember a world before Twitter? How on earth did we ever find out anything!)
Everyone here at PlayPennies HQ would like to add our best wishes, congratulations and welcome Ethan Edward into the big wide world!
Fun In The Sun With The Rooneys
Wayne and Colleen jetted off to Barbados following England's not-shock exit from the FIFA World Cup - in face, they got in to a bit of 'trouble' with the England bosses when it was revealed that they confirmed their reservations a few days BEFORE England's last World Cup match, ooops!  But come on, it didn't take a genius to figure out the team would be on their way home after the game with Germany!
So, anyway, off they went to Barbados and have been having fun in the sun ever since...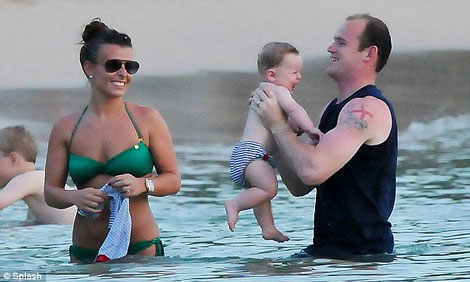 I've never paid much attention to the lives of the Rooney's but you can't deny that they make THE cutest family! Just look at how much fun baby Kai is having - just lovely.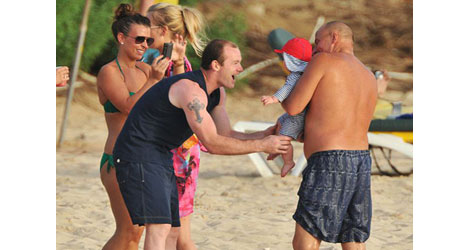 Happy holidays that's all I can say!