Celebaby: Baby Bits And Pieces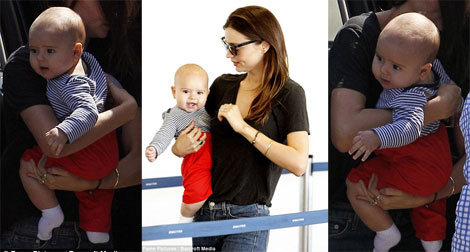 There are lots of various celeb' baby bit and pieces of news floating around at the moment...
Aleph Portman-Millipied
Natalie Portman had her son last month, on 14 June, and has managed to keep his name a secret up to now.  It has been revealed on Israeli TV that he's been named Aleph (or Alef) which is, apparently, the first letter of the Hebrew alphabet.
His parents have also double-barrelled their surnames, giving him the full moniker of Aleph Portman-Millipied.
Flynn Bloom
Of all the celebrity babies I've seen - and I've seen lots of them, as you can imagine - Flynn Bloom (Orlando Bloom and Mirander Kerr's son) HAS to be the cutest of them all; he's just GORGEOUS!  And can you believe he's seven months old already?!
Miranda was away in South Korea recently for work and confessed to be missing Flynn massively, even after just 24 hours.
Now it's Orlando Bloom's turn to be away - he's away in New Zealand filming The Hobbit, speculation is this is where Miranda and Flynn were heading when they checked in at Los Angeles International airport a couple of days ago.
Claudia Winkleman
Claudia Winkleman won't be presenting Strictly Come Dancing It Takes Two on BBC2 this year, as she gave birth to a baby boy yesterday evening and will now be taking time off to be with him and the rest of her family.
Details of his name, if he's been given one, haven't been released yet but you can be sure it's not going to be something wild and wacky; Claud' has two nicely named children already, with her movie producer husband, Jake (8) and Matilda (5).
Zoe Ball will be taking over the It Takes Two presenting hot seat for this coming Strictly season.