Celebaby: Mel B and Ne-Yo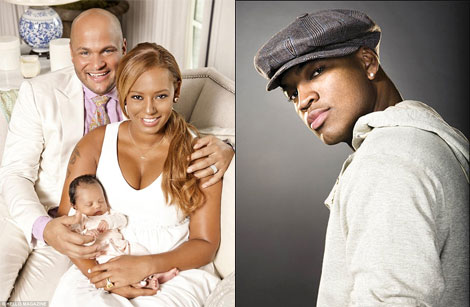 Not Mel B and Ne-Yo together, obviously, but separately!
Mel B
With the required Hello! Magazine happy-families glossy photo shoot under her belt and, probably, on a magazine shelf near you already, Mel B has told how she feels she's finally got motherhood right.
Each of her three daughters has a different father and she puts her new-found parental happiness down to her husband, Stephen Belafonte.
"Ideally you want to have your loving partner who you've created this baby with by your side throughout everything, and in Angel and Phoenix's cases, that wasn't the set up.
I had a rocky marriage with Phoenix's dad. The relationship with Angel's dad, Eddie, was over halfway through the pregnancy, and I had to suck it up and get on with it.
This time I've done it with my partner - someone to come to every prenatal appointment with me, to get excited by every scan - and it feels like I've finally done it right.
When I was moaning to Stephen about my trapped nerve I was thinking, "I've never had anyone to complain to about these kinds of things!""
New baby Madison weighed in at 6lbs 2 ozs and is, by all accounts, a very chilled baby; I'm sure that has something to do with her mummy being a bit more chilled third time round!
Ne-Yo
One of my family cats is called Neo - although he was named after the Matrix Neo, rather than Ne-Yo the RnB pop superstar.
I like a couple of Ne-Yo songs but, up until now, I've never really known much about him and just assumed he swanned around being rich and famous in his spare time.
His daughter, Madilyn Grace, was born last November and to say that he was completely besotted with her when she was born would be something of an understatement...

"Feels like I'm in love for the first time. Welcoming that lil' girl to the world last night defined for me what 'willing to kill and die for' truly means. My world, my life, all hers."
I really feel sorry for all her future boyfriends!
Ne-Yo is now celebrating being an expectant father again along with his girlfriend, and mother to Madilyn, having accepted his marriage proposal.  This next Ne-Yo baby is due in October and will join a sister whose father is utterly devoted to family, and not just his own.
Ne- Yo went up in my estimation, and joined the 'hero' list, when I learned about his charity and foundation work; he set up a foundation called The Compound Foundation which helps foster children fulfil their potential.
Every Mother's Day the foundation chooses five foster mothers who are going above and beyond the call of duty and they are spoiled rotten for the day - isn't that fabulous!
But there's more...
Speaking recently, Ne-Yo explains, "We visit the families, we do a camp every year; an entrepreneurial camp, just making sure these kids get those opportunities."
Seriously, this guy is more than just a RnB pop star - he's an all round superstar as far as I'm concerned.