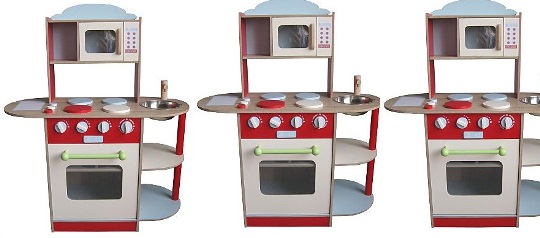 Oooh, this is a lovely deal and many of the people I've spoken to who've bought this toy say it is utterly fabulous. You get this lush wooden play kitchen for £40 instead of the usual £80 at ASDA, what a save!
The wooden play kitchen comes with a microwave, oven, sink, preparation area and storage space and the hub controls turn and click just like a real oven. We used to have a plastic pretend kitchen which we (sadly) had to get rid of for space reasons and my daughter loved it.
The fact that this play kitchen is made from wood is a really good thing. Wooden toys are really so much better quality and are more durable, and they always tend to look really good. I love the little green handle on the oven door and the sweet little sink and vegetable storage area.
While £40 is hardly a minor spend, this kitchen is good value at that price. What do you think?
Thanks to emmajk42 at HUKD!