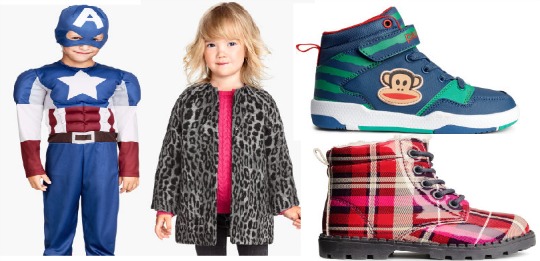 My goodness, folks! Here's another absolute peach of a sale. On selected items only, but there's a lot 300+ to be precise across all of the ranges at H&M. If you do one thing today, make it visiting the H&M site. Items start at just £1.79 and I can assure you that reductions are real, as I am sat here smarting at the fact I had a delivery last week, and have paid full price for a lot of what is on sale.
Right, let me tell you my favourite picks in the baby reductions at H&M. Half pricetop & trousers set* now only £4.99. I love these jersey sets* from H&M as they are a bit fun, these are very popular now at £5.99. Check out this badger one, here*.
If only I had a daughter, you just have to see the beautiful girls range. These red & pink boots* are an absolute steal at only £10.49. I just adore this fur waistcoat*, and it's now £5.99, down from £9.99.
For the boys, you could go mad with the amount of bargains. I know I will be once I have typed this up. These Paul Frank Hi-Tops*were £17.99 and are now only £10.49. There's even tops that are just £1.79, here*
Don't forget to use FREE delivery code 2277, that saves an extra £3.95! Amazing! To see what other vouchers/codes we have on Playpennies, head over to our vouchers section.