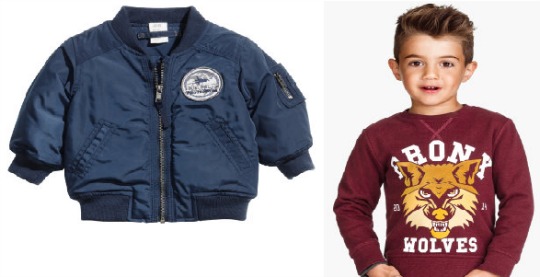 H&M is becoming one of the clothing stores where I begrudge paying full price for items. Why, you ask? Firstly because, they always do sales or events, that are AMAZING and secondly, because I am still smarting at paying full price on a whole heap of clothes, that went in to the sale less than a week after I bought them. H&M kids clothes are popular, and I can see why, trendy, cheap and great quality.
Oh H&M, how you tempt me to part with my hard earned cash on such a regular basis. They just keep churning out the bargains. I always think H&M's style is somewhere between Next and Zara, but much cheaper than both of those.
I absolutely love this baby boy Bomber Jacket*, for only £10. It is reduced from £14.99, and it was worth that.  £5 for this boys' Sweatshirt* is very reasonable, so much so you could get all three different colours/designs. You can find clothing for older boys, here*.
There's so many cute garments in the sale, for girls. For just £5.99, you can get this lovely floral Padded Bodywarmer*. What a bargain! How about this lovely knitted jumper* for £5?
Delivery on any order, for as many items as you like, costs £3.90.