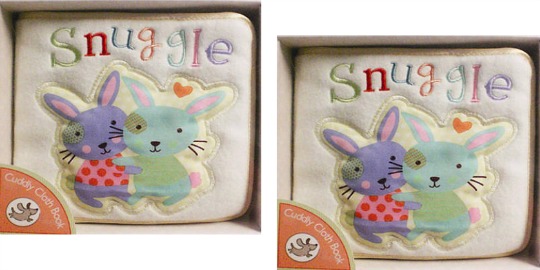 Was £5, reduced to £1.25 and you can have it delivered to your home for free or to a store near you if it's more convenient.
I have to be honest and say there are no reviews on this book and not much information from Asda either. The picture is quite clear though and I really do think it's a case of what you see is what you get. The description simply states:-
It's time for all the animals to go to sleep! There are lots of cosy cuddles as they snuggle together in this soft, huggable bedtime book ...Night night!
I headed over to Amazon and lo and behold they have it. It's £4, then you'd have to add delivery on top and apparently the RRP is £6.99. It has very good reviews, with a typical comment being :-
It's often difficult to know what to get new parents, especially as they are likely to be inundated by babygrows that baby will grow out of in a few weeks. So this sweet little book is a great alternative - it will continue to be suitable for baby throughout the first year, and the fact that it comes packaged in a gift box makes it look like you've gone out to find a proper gift rather than just picking the first book you found.

The book consists of a fluffy, cuddly front cover with an embroidered title and some snuggling bunny rabbits. Inside there are six soft cloth padded pages which have a slight crinkly sound when scrunched. They are not snuggly like the cover but they are easy for little hands to handle. Each page has a couple of rhyming words and a picture of two animals hugging.
What do you think?