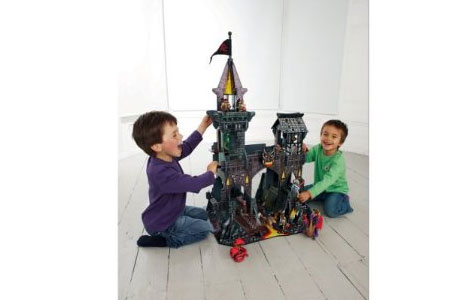 The Early Learning Centre are selling this Tower of Doom for half-price - £37.50 instead of an eye-watering £75; marvellous.
Kids love to be scared; funny really, we spend so much time making sure they're not exposed to scary things and then they want to play with things like the terrifying Tower of Doom.
The bad guys have captured all the knights and locked them in the Tower of Doom, it's YOUR job to storm the tower and try to save them.
According to the ELC website there are dangers lurking round every corner of the Tower of Doom - well I suppose it wouldn't be very doom like if there wasn't - along with a ring of fire you must go through to get to the deep dungeon and all the while terrifying eyes will be watching you.
If you'd rather be one of the bad guys, fear not! There's a handy trap door in the Tower of Doom for you to push knights down where they'll end up in the deep dungeon.
To say all the reviews are glowing would be a serious understatement with comments being made along the lines of...
"The best money I've ever spent!"
"FANTASTIC!"
"Fabulous for imagination"
"Worth every penny" and
"Brilliant Tower of Doom!"
There are still lots in stock but that's not going to be the case for long; home delivery will cost you an extra £4.95 or it might be worth a quick look in your nearest ELC store to see if this half price Tower of Doom offer is available there.
Thanks to jamie0114 at HUKD