Thomas & Friends 3-pack Exclusive @ Sainsburys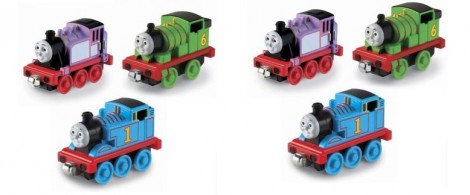 You can never have enough Thomas engines in the present drawer, especially for pre-school boys. This Thomas & Friends 3-Pack is exclusive to Sainsbury's. The store has reduced it by 70% from £17.99 to £5.39.
The cheapest I could find single engines at other outlets was around £4 to £6 each engine. However, Toys R Us also has the die-cast engines from the Thomas & Friends range on sale. These are sold singly at the store and have been marked down  to £1.99 each. This still makes the Sainsbury's deal cheaper, and more convenient as you can buy and collect for free in store and chances are you're more likely to have a Sainsbury in easy reach.
Also, standard delivery is cheaper with Sainsbury's at £3.95. Toys R Us charge £4.95.
In this set you get a Thomas, a Percy, and a Rosie engine. Percy is Thomas' best friend, and with my son has always been more of a favourite than James. I think boys relate more to his not-quite-sure-but-I'll-try attitude than to James' brash and vain persona (even if he does have a nice shiny red coat!).
These are the die-cast engines from the Thomas & Friends range. My son has always liked these engines for taking about with him, and has all the main characters. However they don't fit the train tracks for the Thomas Wooden Railway or the Tomy set. These are too small for that.