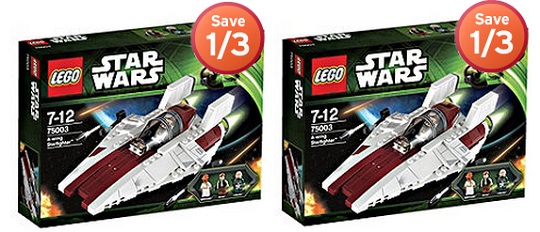 Save a fantastic £8.34 on this Star Wars Lego A-wing Starfighter from Sainsburys. Previously £24.99, Sainsburys are offering this Lego pack for just £16.65. You can either order online and collect at your nearest Sainsburys store or make use of Sainsbury's delivery service which costs an additional £3.95 and takes between three and five days.
Bring the battle to the evil Empire with the Rebel Alliance's super-fast A-wing Starfighter! As featured in Star Wars: Episode VI Return of the Jedi, the agile A-wing, with an opening cockpit, is perfect for attacking the Imperial Fleet! Build the same lightning-fast ship that destroyed Darth Vader's Executor! Then, take on the Imperial forces with Admiral Ackbar, an A-wing pilot and Han Solo!
Suitable for children aged seven years and over, the pack comes with step by step instructions for mums like me who weren't blessed with out of the box thinking! Just a warning from personal experience – Lego is incredibly relaxing and taking over the construction of Lego starships may irritate your Star Wars-mad kids!