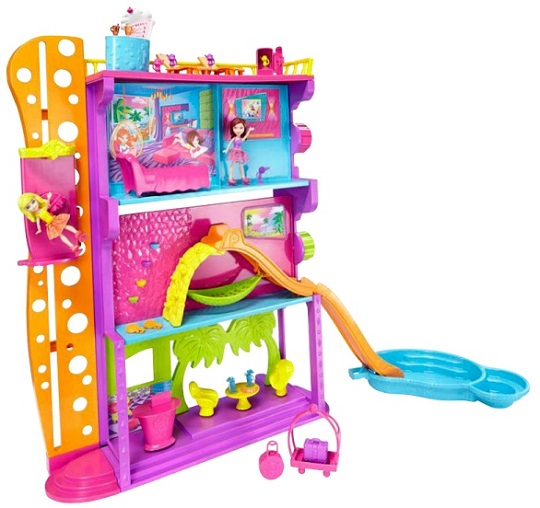 The Polly Pocket Flip 'N' Fun Hotel was priced at £39.99 but if you head on over to Smyths Toys now you'll snatch it up for £19.99. Not too bad a price for a Flip 'n box full of fun.
This is the ultimate Polly Pocket hotel with four stories of flipping (literally) rooms that feature amazing secrets and surprises. The rooms flip with the turn of a dial to double the fun. Stick 'n play suction cups hold the pieces in place when the rooms flip. Polly and Lila dolls love the flipping elevator, which makes them do cartwheels every time they travel up or down in it (just attach the dolls to the clips and move from floor to floor).
The two-story, indoor-outdoor slide takes Polly and Lila dolls straight from the indoor gymnasium or from Lila dolls bed to the pool deck for some swimming fun in the sun. Other areas to play in include the lobby, restaurant, a game room and karaoke lounge, two bedroom suites, an indoor gymnasium and a rooftop ice cream shop.
Sounds like hours of fun!