Peppa Pig Kitchen Playset £7.99 @ Amazon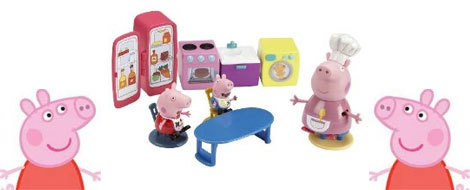 Amazon are selling this Peppa Pig Kitchen Playset for half-price - £7.99 instead of £14.99
My youngest loved Peppa Pig when he was small, well he's still small but he's much more into Ben 10 and Star Wars Lego now - FAR too grown up for the likes of Peppa Pig and her brother George.
This Peppa Pig Kitchen Playset comes with Peppa and George poseable figures along with a kitchen table and chairs for both P and G to sit at.
It also comes with a fridge, a combined oven and hob, a washing machine and, yes, even the kitchen sink - the doors on all the appliances open too.
The Peppa Pig Kitchen Playset doesn't require any batteries, just a whole lot of childhood imagination and hours and hours of nothing to do but play - ahhh, that's the life hey, shame we don't really appreciate it at the time.
The two reviewers who've taken the time to comment on Amazon are both very happy with the Peppa Pig Kitchen Playset...
"We are getting quite a collection of these Peppa Pig play sets and they hold hours of role playing fun for the children."
"Was well recieved by my neice on her 3rd birthday - she is a real Peppa Pig fan and this was perfect for her."
All the usual Amazon delivery options apply.
OINK!